E-update From the Desk of Governor Scott Walker
One of the most important duties I have serving as your Governor is to provide you directly with updates related to the operation of our state government. I also frequently provide updates on Facebook (Governor Scott Walker) and Twitter (@govwalker). Please feel free to share this update with your family, friends, and others who may be interested in state government operations
.
---
Building Our Rainy Day Fund
Recently, the Department of Administration released the 2012 Annual Fiscal Report, which shows we finished the fiscal year 2012 with a positive fund balance of more than $342 million. Because of this, we contributed $108.7 million to the state rainy day fund, the largest deposit in state history. It's also the first time the state has added to the fund in two back-to-back years. This is critical, because as we've seen, the economy can change rapidly.
As we continue our work on the next budget, we remain committed to making the tough decisions necessary to avoid tax increases while maintaining services. Moving forward, our priorities are creating jobs, developing our workforce, investing in infrastructure, reforming government, and transforming education.
Because of our actions to control spending and hold the line on taxes while keeping government services intact, the next generation will not be buried under a mountain of economically crippling debt.
When I took office, we were facing a $3.6 billion deficit. Now, we're making a record contribution to the rainy day fund. Anyone who writes a budget at home knows that you have to make tough decisions to stop overspending and start saving.
We've done that, because our decisions help foster sustained private sector economic growth and job creation, instead of double-digit tax increases, massive private sector job losses, and huge budget deficits we've seen in the past, so we can continue to have balanced budgets for many years to come.
The decisions we make will always be made with you, the people of Wisconsin, in mind. We are committed to running an effective and efficient government.
---
Get to Know a Cabinet Member: Stephanie Klett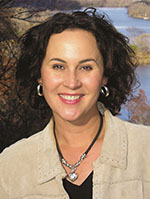 As Governor, one of the most important tasks I have is to appoint and communicate with leaders in each state agency. These leaders, called secretaries, ensure agencies run smoothly and efficiently as they operate state government and implement government reforms. For a few weeks, in lieu of the "Just Ask the Governor" section, I will be highlighting a cabinet secretary and providing a brief overview of the department he or she oversees. I hope these updates will provide you with practical information about state government operations, especially as we head into the next budget cycle.
Stephanie Klett is a name you may recognize. She has traveled Wisconsin non-stop for the past two decades as the host of Discover Wisconsin, and was the perfect choice to serve as Secretary of the Department of Tourism. She's logged more than one million miles crisscrossing the state. Few people know more about the fun Wisconsin's 72 counties have to offer than Stephanie does! She's also the only Tourism Secretary in the nation who has one Emmy and eight Emmy nominations - two while serving as Secretary.
Stephanie brings unmatched energy and enthusiasm to her job of leading the state's $16 billion tourism industry. She shares deeply in my commitment to grow jobs for Wisconsin and is passionate about the role that tourism can play.
The mission of the Department of Tourism is to market Wisconsin as the Midwest's premier travel destination for fun. In the last 20 months, the Department of Tourism has succeeded in raising the bar and bringing new energy to all of their marketing efforts. A few of their recent accomplishments include:
Growing the tourism economy which was up 8%

–

a $1.2 billion increase in 2011,
Recognition from a variety of national awards and honors for their public relations and social media campaigns,
Recruitment of Hollywood directors and Wisconsin natives David and Jerry Zucker and celebrities Jordy Nelson, Robert Hayes, Henry Winkler and Tony Shalhoub to raise the profile of the state's tourism ads,
Travel Wisconsin Welcome Centers closed under the previous administration have been re-opened under a new public-private partnership model and
Introduction of new industry programs such as customer service training and tourism assessments to provide tools local communities need to grow their tourism economy.
Stephanie lives in Beloit, where she grew up the only girl among nine brothers. She credits them for her sense of humor and for toughening her up.
---
Congradulations to Northland Pines School Superintendent
Mike Richie: National 2012 Superintendent of the Year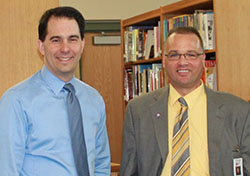 We have some amazing, talented people here in Wisconsin – Ryan Braun, Aaron Rodgers, and Miss America Laura Kaeppeler just to name a few.

But I'm often impressed by the skills and leadership of the people I meet traveling the state who are not in the spotlight.

One of those people is Dr. Mike Richie, Superintendent of the Northland Pines School District in Eagle River.
Recently, Dr. Richie was named 2012 Superintendent of the Year by the National Association of School Superintendents. It is a very well-deserved honor.
Dr. Richie is an innovative, forward-thinker who is dedicated to always doing what is best for the students in his district. He is a strong leader, who excels at thinking outside of the box and is always looking for new ways to provide the very best education while also looking for options to increase efficiency.
Mike Richie, and the Northland Pines School Board, have a positive approach to running their district. When I visited earlier this year, I was greeted by an enthusiastic, energetic and dedicated staff, passionate about providing the best possible education for the students in the district.
Under Mike's leadership, the Northland Pines School District lowered the tax levy, raised revenue by recruiting more students, and received national recognition for the building of the award-winning, cutting-edge high school.
Mike knows for a school district to excel, you need a strong, positive partnership with the community, so he forged relationships with residents, business leaders, and charitable organizations.
Congratulations to Dr. Richie for being named 2012 Superintendent of the Year.
---
It has been a pleasure communicating with you. It is an honor to serve as your Governor and represent the residents of Wisconsin.

Governor Scott Walker