E-update From the Desk of Governor Scott Walker
One of the most important duties I have serving as your Governor is to provide you directly with updates related to the operation of our state government. I also frequently provide updates on Facebook (Governor Scott Walker) and Twitter (@govwalker). Please feel free to share this update with your family, friends, and others who may be interested in state government operations
.
---
Honoring Our Veterans
Last Saturday, the final Wisconsin Honor Flight of the year took more than 200 Wisconsin veterans to Washington, D.C. for the day to see the WWII Memorial and other historical sites. Thanks to the great work of five individual Honor Flight groups in Wisconsin, the Badger Honor Flight; the Freedom Honor Flight; the Never Forgotten Honor Flight; the Old Glory Honor Flight; and the Stars & Stripes Honor Flight, hundreds upon hundreds of Wisconsin veterans were able to travel to our nation's capital this year on nearly 20 Honor Flights, at no cost to the veterans or taxpayers.
In the past, I've had the amazing opportunity to see some of these flights depart and personally thank these extraordinary heroes, and it is something I will never forget. Anyone who has participated in a welcome home celebration or watched it on the news knows how heartwarming and powerful it is to witness these men and women receiving a true "hero's welcome" for their service and sacrifice as they return home on an Honor Flight.
As we prepare to recognize Veterans Day on November 11, we salute these remarkable heroes and thank them for their service, along with all of Wisconsin's service men and women. We also thank the Honor Flight organizations and all the volunteers and donors associated with these groups for making such a special day possible. To learn more about an Honor Flight organization near you, please
click here
.
Beyond just the honor flight, I'm looking forward to spending time with Wisconsin Veterans at the Union Grove Home this weekend. I always enjoy visiting with veterans and talking with them about the experiences they had while serving.
---
Deer Hunting Update
Opening day of the nine-day deer season is right around the corner. Wisconsin's hunting tradition makes our state a global deer hunting destination. In order to keep the tradition alive, we need to share stories and the experience of the hunt with the next generation. This year, I am urging hunters to introduce someone new to hunting. We've made it easier and cheaper for new individuals to try hunting—first-time hunters can now try out the sport at a discounted rate by purchasing a First-Time Hunter's License through the Department of Natural Resources (DNR). For more information on the discounted license or on any hunting related questions, call the DNR's customer service call center at 1-888-WDNR INFO (1-888-936-7463). Highly trained DNR customer service representatives are available 7 a.m. to 10 p.m. to answer any questions.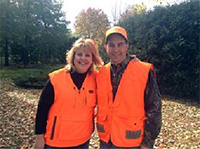 Our culture and collective respect for the state's natural resources draw deer hunters to Wisconsin from all over the globe. Since many people don't have private places to hunt, we are developing opportunities by opening private land for public hunting. This year, hunting opportunities have been expanded through the Voluntary Public Access (VPA) program, which now has 43,000 acres of private land open to hunting, up about 29,000 acres from last year. VPA land is open to the public for multiple purposes, including hunting, and doesn't require permission from the land owner prior to use. Visit www.dnr.wi.gov and search keyword "VPA," for detailed, user-friendly maps of all the properties enrolled in the VPA program.
After hearing reports about how difficult it was to find information on certain parcels of land, I asked the DNR last month to map all land that is open to the public for hunting and other purposes. This week, I was proud to announce a web-based mapping tool aimed at helping users find privately owned land open for specific recreational activities. To access this mapping tool, visit the DNR web site at

www.dnr.wi.gov

and type "MFL open land" in the Keyword field.
I hope these resources will be helpful as you consider planning a hunting trip.
I will be one of the hundreds of thousands of hunters looking to get a deer this year. Going hunting feeds our traditions, feeds our families, and feeds our economy. Have a safe and fun 2012 deer season.
---
Get to Know a Cabinet Member: Cathy Stepp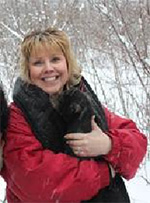 As Governor, one of the most important tasks I have is to appoint and communicate with leaders in each state agency. These leaders, called secretaries, ensure agencies run smoothly and efficiently as they operate state government and implement government reforms. For a few weeks, in lieu of the "Just Ask the Governor" section, I will be highlighting a cabinet secretary and providing a brief overview of the department he or she oversees. I hope these updates will provide you with practical information about state government operations, especially as we head into the next budget cycle.
As the first woman DNR Secretary, Cathy is doing a fantastic job leading the agency. She manages more than 2,500 permanent employees throughout six divisions within the DNR. She oversees a total agency budget of about $550 million.
In 1998, Gov. Tommy Thompson asked Cathy to serve on the Natural Resources Board and to bring her private sector experience to the Board.

From 2002 to 2006 she served as Racine's state senator, acting as the Chairman of the Senate Committee Job Creation Committee and Co-Chair of the Environment and Natural Resources Committee. Beyond these stints in public service, most of her experience has been in the private sector. As a former homebuilder, Cathy understands Wisconsin's regulatory climate and how it directly affected small business owners.
After enjoying her first deer hunt last year, Cathy made it a priority to get more women and kids involved in hunting and into the outdoors. During the past two years, she tried her hand at bass fishing, banding loons, musky fishing, and learned more about the behind the scenes work of the DNR's wildlife biologists by locating newborn elk calves and bear cubs.
Under Cathy's leadership, the DNR concentrated on improving customer relations and streamlining and simplifying permitting processes. Cathy knows job creation and environmental protection are mutually supportive. Just this week the DNR officially launched the Office of Business Support and Sustainability to provide proactive business support.
Cathy enjoys Wisconsin's snowmobile trails each winter. She also hunts turkeys in western Wisconsin and is proud of the tremendous hunting opportunities our state offers to residents and tourists. She enjoys spending time outdoors with her husband, Paul, and two children, Hannah and Mitchell.
---
School Report Card Suggestions
In last week's e-update, I asked for feedback on Wisconsin's new school report cards (which can be accessed by
clicking here
). Below is a listing of some of the responses I received, which I'll consider as we work to replicate the success of schools that are exceeding expectations and help underperforming schools improve:
Please report the dollar amount per student that each district is funding.

It seems that the scale is very lenient. I hope that over time we'll expect more from our schools than a 63 to meet expectations.

I think the report cards should be published in each school districts local paper, so all citizens can be informed.

Each year, randomly test on different subjects.
Much like a real report card, this scale has five ranges, just like a report card has ranges for A, B, C, D, and F.
---
It has been a pleasure communicating with you. It is an honor to serve as your Governor and represent the residents of Wisconsin.

Governor Scott Walker