E-update From the Desk of Governor Scott Walker
One of the most important duties I have serving as your Governor is to provide you directly with updates related to the operation of our state government. I also frequently provide updates on Facebook (Governor Scott Walker) and Twitter (@govwalker). Please feel free to share this update with your family, friends, and others who may be interested in state government operations
.
---
Celebrating Veterans Day
As we celebrated Veterans Day and 2012 as the Year of the Veteran we continued to focus on honoring our veterans by doing all we can to help them secure good health, security, and happiness when they come home. Beyond just words, our state is taking action to show how much we appreciate their service.
So far this year, we've held sixteen job fairs for veterans, connecting hundreds of employers with veterans looking for work. This week we partnered with VETransfer to launch a program focused on growing veteran-owned business startups.
Beyond helping veterans create jobs in the private sector and find work, we're on track to christen a new Wisconsin Veterans Home in Chippewa Falls early next year. We are excited to provide the most modern living conditions and best health care to veterans.
One of my most memorable events of the year was when I had the opportunity to visit with Wisconsin troops stationed overseas. They were and are doing a fantastic job representing our state and nation as they serve our country.
Throughout the rest of the year it's important to remember the men and women in uniform who have fought so hard to preserve the democracy and freedoms we enjoy each and every day.
You can view excerpts from the Veterans Day ceremony held at the State Capitol in Madison by clicking here.
---
Get to Know a Cabinet Member: John Scocos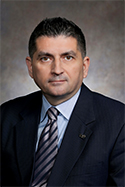 As Governor, one of the most important tasks I have is to appoint and communicate with leaders in each state agency. These leaders, called secretaries, ensure agencies run smoothly and efficiently as they operate state government and implement government reforms. For a few weeks, in lieu of the "Just Ask the Governor" section, I will be highlighting a cabinet

secretary and providing a brief overview of the department he or she oversees. I hope these updates will provide you with practical information about state government operations, especially as we head into the next budget cycle.
Last year, I appointed John Scocos as the Secretary of the Wisconsin Department of Veterans Affairs (WDVA). As the Secretary, he is the chief advocate for the more than 407,000 veterans who call Wisconsin home. He is responsible for the leadership and management of the department, which includes overseeing the Veterans Trust Fund, administering a number of important veterans' programs, and providing resources to veterans returning home.
John has a long and distinguished record of service to his state and country. He served in a number of capacities at WDVA in the past and as the Chief Clerk and Sergeant at Arms of the Wisconsin State Assembly. John began his 31 years of military service as an Armor Officer. He was on active duty from 1981 to 1990, after which he joined the United States Army Reserve. He was mobilized in both 2007 and 2008 for service in Iraq.
He is married to Dr. Kelly Ann Williams. They currently live in Fitchburg, WI, with their children: Chloe, Andreas, and Costa.
---
2nd Annual Small Business Summit Completed, Northwoods Summit Announced
Last week, the 2nd annual Governor's Small Business Summit took place in La Crosse. Lieutenant Governor Rebecca Kleefisch and top agency officials were joined by about 300 small business owners and leaders from around the state. To watch a video regarding this year's summit, please click here.
We also rolled out the website and opened up on-line registration for the Northern Wisconsin Economic Development Summit, which will take place on December 13th and 14th at the Heartwood Conference Center & Retreat in Trego.
Additional information about the Northwoods Summit can be accessed by clicking here.
---
Making Our Roads Safer
Last year, I signed Wisconsin Act 164 into law, which prohibits drivers with a Wisconsin instructional permit or probationary license from using a cell phone while driving. This law will reduce distractions for young and inexperienced drivers, ultimately improving safety for everyone who uses Wisconsin's roadways.
According to the

National Highway Traffic Safety Administration 11 percent of all drivers under the age of 20 involved in fatal crashes were distracted at the time of the crash. This age group also has the largest proportion of drivers who were distracted during accidents.
This new law took effect on November 1, 2012. The fine is $20 to $40 for the first offense and $50 to $100 for subsequent offenses in the same year. Additional information about this new law can be accessed by clicking here.
---
It has been a pleasure communicating with you. It is an honor to serve as your Governor and represent the residents of Wisconsin.

Governor Scott Walker