E-update From the Desk of Governor Scott Walker
One of the most important duties I have serving as your Governor is to provide you directly with updates related to the operation of our state government. I also frequently provide updates on Facebook (Governor Scott Walker) and Twitter (@govwalker). Please feel free to share this update with your family, friends, and others who may be interested in state government operations
.
---
Budgeting For the Next Generation
Last week, the Department of Administration released revenue projections and provided an update on the current state budget. The State of Wisconsin is projected to start fiscal year 2013 with a $342.1 million balance, which is the largest opening balance since fiscal year 2001.
On top of the positive opening balance, we are projected to deposit $125 million into the state's rainy day fund. For the first time in history, Wisconsin will deposit funds into the rainy day fund in two consecutive fiscal years.
Heading into the next budget, we are in the unique position of having anticipated surpluses, increased revenue, and projected economic growth. I'm excited about the opportunities we have to build a better Wisconsin for the next generation.
---
Reducing Waste, Fraud, and Abuse
Earlier this week, the Waste, Fraud, and Abuse Elimination Task Force issued its third quarterly report of 2012. It includes citizen suggestions and highlights state actions that have helped save money and make government more efficient.
Each quarter, the Task Force will issue a report highlighting these suggestions and other efforts to curb government waste. To view the new report, please click here.
Anyone can submit suggestions to make government operate more efficiently by clicking here.
---
National Adoption Month
November marks National Adoption Month, which recognizes and honors those outstanding adoptive parents who have welcomed a child into their home. It's important to remember the positive impact these adoptive families have in our communities.
At a ceremony in the State Capitol earlier this week, the Department of Children and Families recognized four amazing families with the 2012 Governor's Outstanding Adoptive Parent award and honored four adoption advocates with the 2012 Governor's Champion of Adoption award.
The four families chosen provide just a glimpse of the adoption picture in Wisconsin. Hundreds of families step forward to provide a home for over 700 children each year. I cannot say enough about how much we appreciate the dedication of our adoptive parents, as well as those who work tirelessly with the families throughout the adoption process.
All children deserve a loving and nurturing family and a stable home. Adoption is a great way to share something offering tremendous rewards for both the child and the adoptive parents. Children who are adopted have a sense of belonging and feel more secure which improves their self-esteem. Adoption provides a child with the greatest gift of all—a family.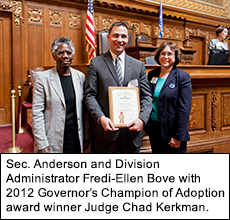 For their remarkable commitment to the children and families of Wisconsin, the 2012 Governor's Outstanding Adoptive Parents are: Amy and Ben Selenske of Madison, Dale and Lisa Bowser of Wisconsin Dells, Arletta Frazier-Tucker of Racine, and Joel and Kaia Beyer of Union Grove.
Receiving the 2012 Governor's Champions of Adoption awards were Theresa Roetter of Madison, an adoption attorney selected as a 2012 Angels in Adoption; Judge Chad Kerkman of Kenosha, who started Adoption Day in Kenosha County; Mary Grossnickle, who founded "Speaking of Adoption" and wrote the children's book A Place in My Heart; and Julie and Bill Ryno, who founded UMOJA – A Black Heritage Experience, a heritage camp for families that adopt a child from a different culture.
---
Get to Know a Cabinet Member: Eloise Anderson
As Governor, one of the most important tasks I have is to appoint and communicate with leaders in each state agency. These leaders, called secretaries, ensure agencies run smoothly and efficiently as they operate state government and implement government reforms. For a few weeks, in lieu of the "Just Ask the Governor" section, I will be highlighting a cabinet secretary and providing a brief overview of the department he or she oversees. I hope these updates will provide you with practical information about state government operations, especially as we head into the next budget cycle.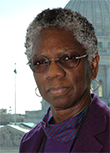 Bringing Secretary Eloise Anderson to the Department of Children and Families (DCF) was great for Wisconsin! Eloise began her career in Milwaukee as a social worker before joining state government. She has more than 20 years of experience in public service, including playing an instrumental role in the creation of the TANF (Temporary Assistance for Needy Families) program.
Under Eloise's leadership, DCF has focused on connecting low income individuals with jobs; providing families access to high-quality affordable early care and education; ensuring that children have financial support from both their parents; protecting the safety and well-being of children; and cracking down on fraud in the Wisconsin Shares subsidized child care program. DCF has approximately 700 employees and a billion dollar annual budget

.
Eloise has focused on developing structures to ensure family stability and publicly elevated the role of involved fatherhood, which supports fathers as nurturing providers. She deeply shares my goal to have every child in Wisconsin reading at, or above, grade level when they come out of elementary school. DCF is a key partner in supporting my "Read to Lead" initiative, which recognizes quality early childhood education and is critical to ensuring the future leaders of our state are given the

educational foundation they need to achieve success

.
Eloise has two adult children and two grandsons. She lives in Marshall with her husband, Patrick. She is an avid golfer and enjoys Wisconsin's beautiful golf courses whenever she can. Eloise's personal philosophy is we should all be lifelong learners and she exemplifies this belief by taking piano lessons.
---
It has been a pleasure communicating with you. It is an honor to serve as your Governor and represent the residents of Wisconsin.

Governor Scott Walker