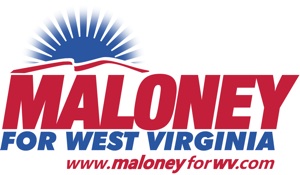 MALONEY FOR WEST VIRGINIA
For immediate release: Thursday, March 15, 2012
Contact: campaign@maloneyforwv.com
(304) 376-5038
BILL MALONEY STATEMENT ON FAILURE TO GET CRACKER PLANT
"How much longer must West Virginia families wait for jobs?" asks Maloney.
MORGANTOWN —West Virginia gubernatorial candidate Bill Maloney released the following statement today following the news that the chemical processing plant, known as a 'cracker', would be built in Pennsylvania rather than West Virginia.

"Our hearts go out to the thousands of families in West Virginia who were hoping to finally see some new job opportunities that would have come along with getting this facility in our state," said Maloney. "How much longer must West Virginia families wait for jobs?"

He continued, "For months, Earl Ray Tomblin has said that this was his number one priority as Governor. Well, he failed. This administration has done nothing to fix the fundamental problems that job creators face in West Virginia, but unfortunately West Virginia families continue to pay the price for the failures of the career politicians, special interests, and lobbyists in Charleston."

'Rob Alsop, Gov. Earl Ray Tomblin's chief of staff, said attracting a cracker remains the governor's No. 1 goal.'
Alsop: "It's our top priority at the moment." (Charleston Daily Mail, 12/7/2011)

Maloney concluded, "West Virginia just lost billions of dollars of potential investment and lost tens of thousands of job opportunities to the state of Pennsylvania. The Obama / Tomblin team is obviously out of touch with the needs of our state. West Virginian families have no other choice than to demand new leadership. We need a proven job creator in Charleston who will take the bold steps necessary to move our state forward."
###
ABOUT BILL MALONEY
Bill Maloney was the 2011 Republican nominee for governor of West Virginia. A proven job creator, Maloney has built his own businesses and provided jobs to hundreds of West Virginia families. Maloney isn't a career politician, and he will bring real-world experience and a fresh approach to Charleston. He believes in lower taxes, smaller government and more opportunity. Maloney's 'can-do' attitude helped to save the lives of 33 trapped Chilean miners recently. Maloney and his wife Sharon live in Morgantown and attend Chestnut Ridge Church. They have two grown daughters, with a grandchild on the way.
Follow Maloney for West Virginia online:
Facebook -- http://facebook.com/MaloneyforWV
Twitter -- http://twitter.com/MaloneyforWV
YouTube -- http://youtube.com/user/MaloneyforWV