E-Update from the Desk of Governor Scott Walker
One of the most important duties I have serving as your Governor is to provide you directly with updates related to the operation of our state government. I also frequently provide updates on Facebook (Governor Scott Walker) and Twitter (@GovWalker). Please feel free to share this update with your family, friends, and others who may be interested in state government operations
.
---
Wisconsin's $560 Million Budget Surplus
The non-partisan Legislative Fiscal Bureau released updated revenue projections yesterday, which showed Wisconsin will have a $560 million surplus when this fiscal year ends in June. Our sound fiscal management means we can continue to invest in our priorities while protecting taxpayers.
The surplus and increased revenue projections should be invested in aid for our schools, lowering income taxes for middle-class families, holding the line on property taxes, and building our rainy day fund. Wisconsin's economy is growing, and our tough, but prudent, decisions mean we are better off than we were two years ago.
---
Wisconsin Improves to 17th in "Best/Worst States for Business 2013" Ranking
Chief Executive magazine announced the results of their annual "Best/Worst States for Business" survey on Tuesday, and for the third consecutive year, Wisconsin improved its position among the nation's best states for business. Wisconsin improved from 20th in 2012 to 17th in 2013, and up from 41st in 2010.
Since taking office in 2011, my number one goal has been to help the private sector create jobs by establishing a favorable climate for economic growth. This three-year improvement in ranking continues to show our economy is better off than it was a few years ago, and Wisconsin is on track to becoming one of America's best states for business.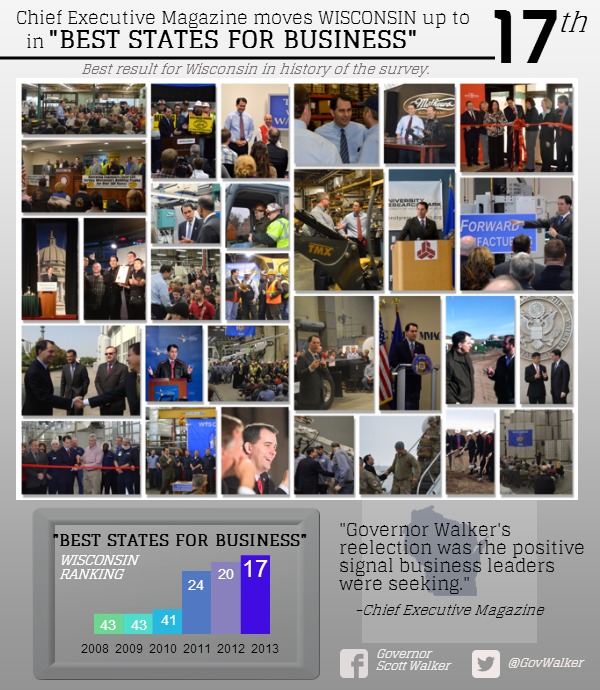 ---
"Cabinet on the Road"
On Monday, Lieutenant Governor Rebecca Kleefisch and members of the Cabinet joined me to kick off the "Cabinet on the Road" series at Modine Manufacturing in Racine. This is a great opportunity to travel with the Cabinet and listen to the concerns of local job creators and discuss how we can help them create more jobs.
We had a unique opportunity to ask questions about the impact of state government on business. Our Administration is always trying to find ways to lower the cost of doing business in Wisconsin, promote job creation, and limit unnecessary regulations that hurt small businesses.
The 2013 Wisconsin Regulatory Review Report was published earlier this year and identified 218 rules with 307 recommended modifications. The Small Business Regulatory Review Board conducted a survey of employers as part of the report, and 70 percent of employers said regulations impose a significant cost on their businesses.
My Administration will continue working on building a pro-growth environment in Wisconsin so our job creators can grow and hire more workers.
---
Focusing on Jobs
Two years ago, during my inaugural address, I stated "We will work tirelessly to restore economic growth and vibrancy to our state. My top three priorities are jobs, jobs, and jobs." I've remained true to my words, and I will continue to each and every day I have the honor of serving as your Governor.
Recently, we made substantial strides helping Wisconsinites who are currently looking for work get the jobs that are available today:
Just in the last month, the Wisconsin Department of Workforce Development hosted 30 job fairs and specialized recruitments attended by nearly 3,500 job seekers—including fairs in the Fox Valley, along the Illinois border, in the Chippewa Valley, in the Coulee Region, and in Southwest Wisconsin;

In the last week, on-site recruitment events were held at six major Wisconsin employers;

www.JobCenterofWisconsin.com has more than 40,000 job postings including more than 6,700 that were added in the last week; and

We've added private sector members to the Council on Workforce Investment—an advisory panel working to help prepare workers find jobs in the modern workforce.
Beyond these efforts, we have additional innovative ideas to assist individuals, who are currently looking for employment. Later this month, we will encourage individuals in southeast Wisconsin currently receiving unemployment benefits to pre-register for a career expo taking place in their area. Dozens of employers have already signed up for the expo, which is good news. If you're interested, you can visit www.WisconsinCareerExpo.com to learn more.
I remain focused on helping foster an economic environment that allows the private sector to create jobs, and I will continue to help individuals who are seeking work get jobs that are available today.
---
State Employee Recognition Day
State Employee Recognition Day was Wednesday, May 8, and you can watch my message to state employees here.
I thank all state employees for their hard work and dedication. The services they provide help make Wisconsin a better place to live. Wisconsin is lucky to have employees, who lead by example and exude a high level of professionalism, and I encourage all citizens to express appreciation to them each day.
---
It has been a pleasure communicating with you. It is an honor to serve as your Governor and represent the residents of Wisconsin.

Governor Scott Walker