E-Update from the Desk of Governor Scott Walker
One of the most important duties I have serving as your Governor is to provide you directly with updates related to the operation of our state government. I also frequently provide updates on Facebook (Governor Scott Walker) and Twitter (@GovWalker). Please feel free to share this update with your family, friends, and others who may be interested in state government operations
.
---
Working Together with Legislators
The budget is rapidly moving through the Joint Finance Committee and will soon move to the State Assembly and State Senate. I am proud of the budget I put forth and welcome the discussion currently going on in the Finance Committee, as well as the ongoing debate that will soon occur in the Legislature. By working together, I am confident a budget will be signed investing in our priorities and benefiting all Wisconsinites.
I am continuing to work with legislators on a plan to increase school funding and give students and parents access to quality education choices, while protecting local taxpayers.
A tax cut will help move Wisconsin forward by putting more money back into the pockets of hardworking parents, grandparents, and individuals. Wisconsin's income tax burden is especially hard on middle class taxpayers. Including a tax cut in the 2013-15 budget will help those hit hardest by economic difficulties get back on their feet.
---
St. Croix River Bridge Groundbreaking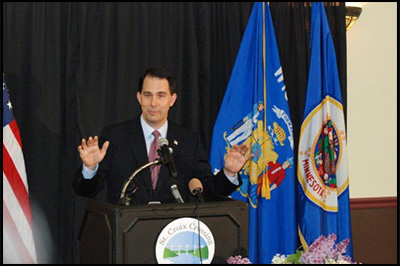 The groundbreaking ceremony of the St. Croix River Bridge took place on Tuesday at Lowell Park in Stillwater, Minnesota. The bridge will replace the historic Stillwater Lift Bridge, which was completed in 1931.
Creating a safer, more reliable method of transportation between our neighboring states encourages interstate travel and opens the door for new economic opportunities. At a time when jobs are of the utmost importance, I am excited to see this project moving forward, and I am confident it will have a positive impact on our workforce. I am glad Wisconsin and Minnesota have been able to effectively work together on this project, which will greatly benefit residents of both states.
Wisconsin and Minnesota have a long history of collaboration on this project and they will continue to share the cost of the new bridge. Each state is responsible for the cost of the approach roads to the bridge, but the cost of the bridge itself is split evenly. The four-lane bridge will connect state highways on both sides of the river and will provide uninterrupted traffic flow for both river and road traffic.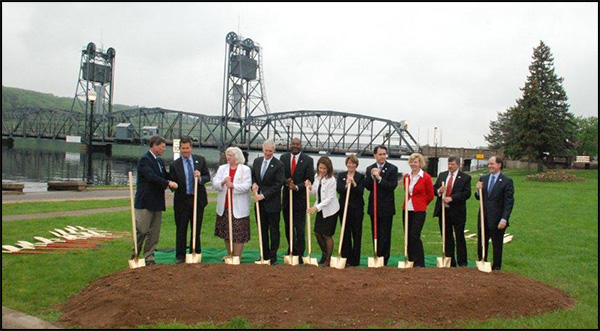 Those joining me at the groundbreaking included United States Senators Ron Johnson (R-WI), Tammy Baldwin (D-WI), and Amy Klobuchar (D-MN); United States Representatives Ron Kind (D-WI3), Sean Duffy (R-WI7), and Michele Bachmann (R-MN6); along with other state and local officials.
The historic Stillwater Lift Bridge will be preserved as a scenic pedestrian and bike trail.
---
Gold Collar Announcement
Yesterday, I attended the Southwest Technical College's Gold Collar Certification event in Prairie du Chien. The Gold Collar Certification pilot program partners five local manufacturers with Southwest Technical College to develop skills for entry-level production workers.
This is an exciting program that actively addresses the skills gap, and it's a great model that should be emulated throughout Wisconsin. The program provides workforce training for careers in advanced manufacturing and is aimed at closing the skills gap for entry-level employees in advanced manufacturing. It is geared toward those who are unemployed, looking to change careers to manufacturing, or looking to improve their manufacturing skills.
The companies partnering with Southwest Technical College on this project are Dillman Equipment, Miniature Precision Components (MPC), Design Homes, Cabela's, and 3M. These partnering employers give the graduates hiring preference.
This workforce training program was developed by Southwest Technical College with the financial grant support of the Wisconsin Covenant Foundation.
---
Assembly Bill 85 Signed into Law
Today, I signed Assembly Bill 85, which makes a number of commonsense reforms to Milwaukee County government and calls for a binding referendum to determine salaries for members of the Milwaukee County Board.
These long-awaited reforms will make Milwaukee County government more efficient and will save money for its hard-working taxpayers. The people of Milwaukee County will finally have their voices heard through a vote in 2014. I thank Senator Alberta Darling (R-River Hills) and Representative Joe Sanfelippo (R-West Allis) for their leadership on this bill.
---
It has been a pleasure communicating with you. It is an honor to serve as your Governor and represent the residents of Wisconsin.

Governor Scott Walker